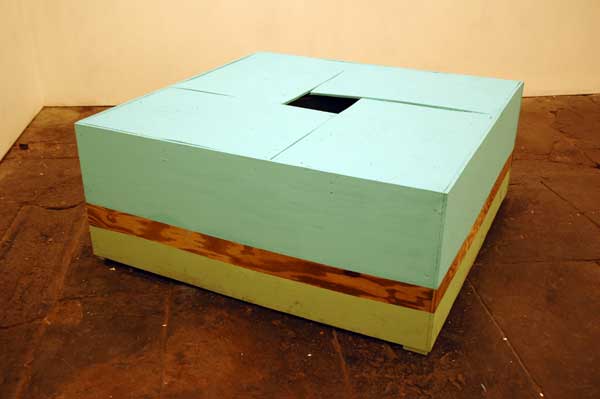 Michael Linares Oasis 2006 wood, screws, enamel, plastic, assorted beers 2' x 5' x 5' [installation view]
The beers were gone by the time we arrived yesterday, but we got the idea. It's a beautiful sculpture, even absent any knowledge of its congenial concept. The work is by Michael Linares, one of six exciting artists working in Puerto Rico who are represented in the current show, "The Lovers", at CANADA Gallery.
The rooms on Christie Street are one of our favorite New York destinations, and the gallery is now doing an exchange with San Juan's very impressive* Galeria Commercial. About the time this show ends [the announcement reads this Saturday, although it may be extended] a group of Canada artists will begin a show in the Puerto Rico space.
CANADA explains the New York installation in this excerpt from their press release:
Though not intended, the group of works in The Lovers
resembles an adulterated version of a bar. The sum of
art put together for this exhibition spins a jukebox,
a cooler, a pool table and a hippie bead curtain.

. . . .

Michael Linares' piece, titled Oasis (2006), is a
pedestal stuffed with beer. Strategically located
between other works in the exhibition, it works
simultaneously as gathering and refreshment area. The
seemingly abstract forms contrast with the open-ended
relational formations produced by them.
*
After our return from the Miami fairs last December Barry wrote: "Several galleries impressed with their overall programs. One was Galería Comercial, which is located in San Juan, Puerto Rico. It exists somewhere between the non-profit and commercial gallery worlds -- but on purpose unlike some galleries! At NADA, they showed posters and other works by Pedro Vélez, plus a number of other artists working in media ranging from painting to video."