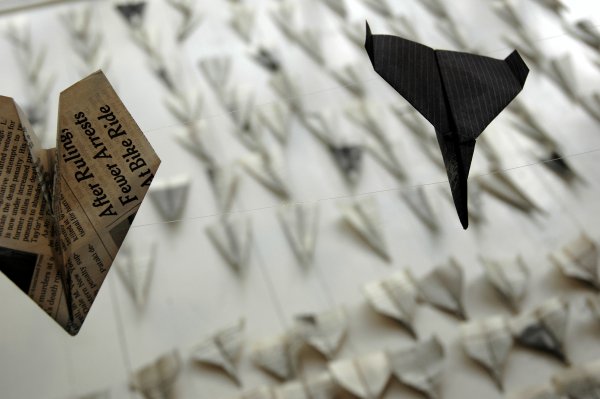 Sachar Mathias Windows 2006 newspaper [detail of installation]
Willamsburg may have lost some very good galleries in the last two years (most in moves to Chelsea), but fortunately there seem to be just about as many new ones settling in. Because of the rent pressures created by gentrification, these new spaces aren't usually going to be found near the Bedford Street/L train crossroads, but this means they can, or must, be just about as resouceful or scrappy (read, "edgy") as those which have pulled up stakes.
One of the new guys in town is actually just down the road. Outrageous Look is an attractive space in a beautiful, landmarked pale green, cast-iron building on Broadway, Williamsburg's old crossroads, where Sachar Mathias has taken over the sunny window spaces for her update of the Japanese legend describing the wish fulfillment properties of 1000 folded paper cranes. On the third anniversary of the most unnecessary of wars Mathias uses paper* American warplanes, in the words of the press release, "to evoke both the image of war and the wish for peace".
From the gallery:
The planes will be sold for a minimum donation of $25 to the NYCLU Foundation in support of civil liberites litigation. 100% of all proceeds go directly to the foundation.

*
(the NYTimes International and National sections)