Kuhl and Leyton Just Like Heaven 2007 acrylic tape on paper 60" x 54" [installation view]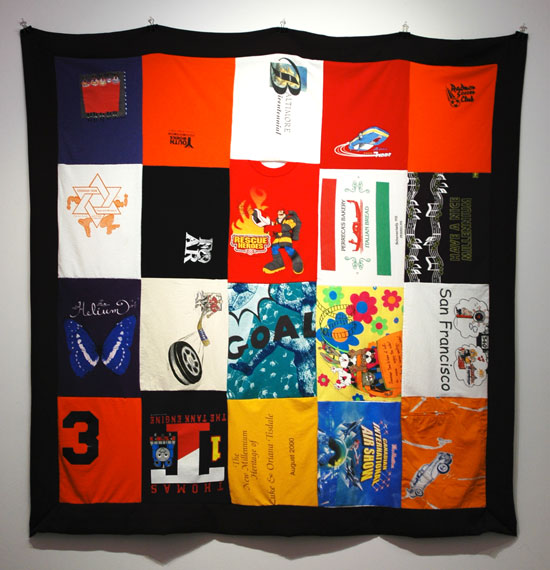 Lee Tusman Have a Nice Millenium 2006 quilt - mixed media, t-shirts, found fabric 56" x 54" [installation view]



Renee Riccardo is the curator of a group show, "Homegrown", currently at David Krut Projects, which draws artists and collaboratives from five corners of the country. The threads running through the project include thread, itself in the case of several pieces, and a number of other homegrown materials and practices including tape, plastics, ribbon, foam, shells, refashioned found objects, glitter and collage.
There's much fun to be found here, but it's not all as playful as the materials might suggest.
The artists represented are Scott Andresen, Karen Azoulay, Bethany Bristow, Orly Cogan, Robin Dash, Misaki Kawai, Kuhl & Leyton, Greg Lamarche, Cristina Lei Rodriguez, Margaret Lee, LoVid, Adia Millett, Doug Morris, Anne-Francoise Potterat, Jon Rosenbaum, Erika Somogyi, Lee Tusman, and Jasmine Zimmerman.