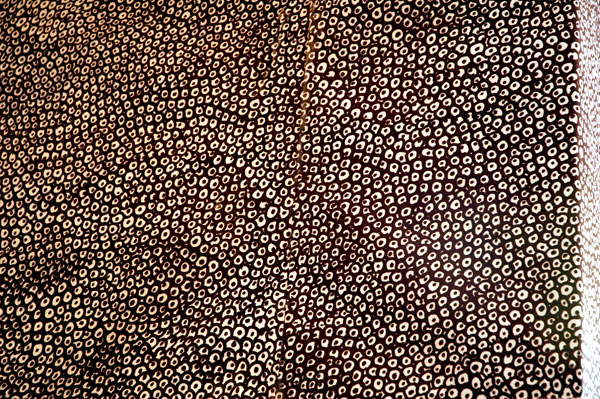 Noah Lyon's print mural, wrapped around a wall above his colorful booth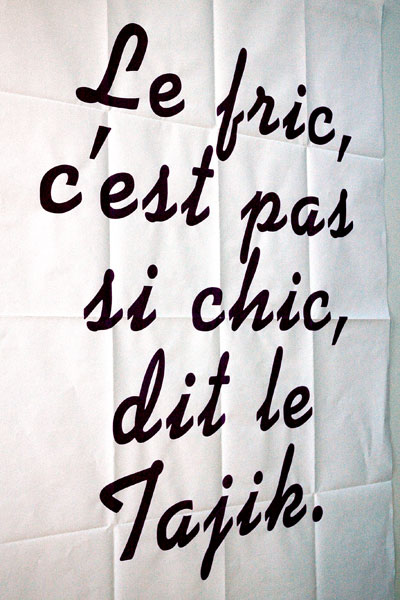 Slavs & Tatars poster ("the money, it's not so smart, says the Tajik guy")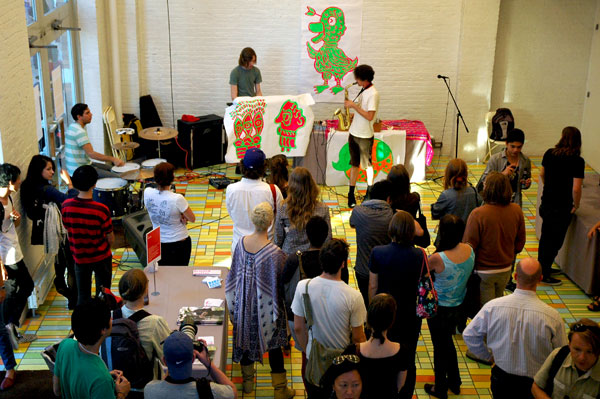 Soiled Mattress and the Springs, sounding here more hardcore than laid-back, accompanied by Matthew Thurber's drawings
I know the images above may not seem to represent the primary focus of the New York Art Book Fair, but even under ideal circumstances I find it very difficult to get an interesting photograph of a book. Representing both a challenge and an obstacle, last weekend's covered market, had thousands of them. Spread over two floors of the old Dia space in Chelsea, every book demanded a look or a reading and, in some cases, even a hearing. There was also the challenge an excited crowd can present to any attempt at photo documentation (or vice versa).
Incidentally the creators of work shown in all three images actually were hawking books of some kind. Lyon was showing his own beautiful printed and handmade volumes in addition to his work in other media; the Moscow collaborative, Slavs & Tatars, displayed books, posters and T-shirts, all of which were reminders of the rest of the world's ignorance and long neglect of the richness of a multicultural Eurasia; and the the punk/lounge trio Soiled Mattress and the Springs were invited to help launch the new arts magazine, ANP Quarterly.
I've decided that art book fairs are even more exhausting than straight art fairs: I'm sure it has almost everything to do with what the crowded, small-scale displays can do to the eyes and the head.
But nothing will keep us away from another incarnation of this one. Barry and I saw some great stuff, met some wonderful people (books, art, a little music and the people who love those things - what's not to like?), went home with a few goodies - and an even longer wish list - and had at least as much fun as we did last year, at the first appearance of the fair, which was created and run by Printed Matter.