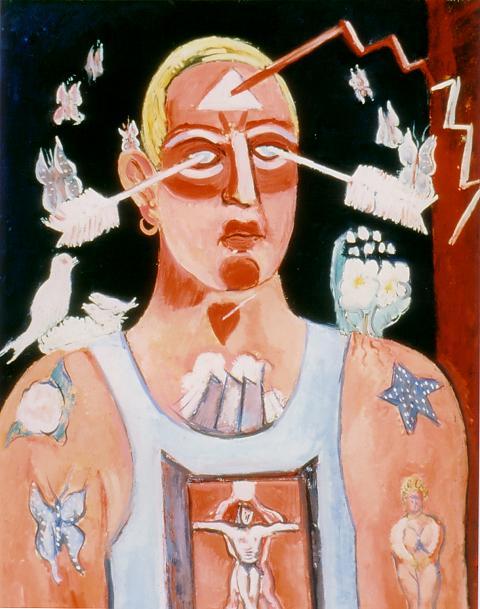 Marsden Hartely Sustained Comedy 1939 oil on academy board 28.5" x 22"
Marsden Hartley's vigorous expressionist art is clearly a part of today's world more than it was while he lived, and the man himself is today less a mystery* to the world than he was, perhaps even to his friends, while he was still alive. At the same time the largely pre-industrial world where, very late in his life, his painting flourished so robustly, and where we now know his capacity for love was generously requited, disappeared long ago, even in quiet coastal pockets populated by communities of honest and loving fishers.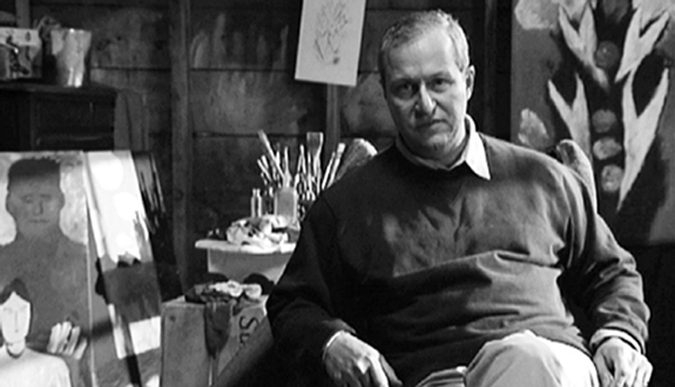 In the film, "Cleophas and His Own", Michael Maglaras plays Marsden Hartley while sitting inside a reconstruction of Hartley's 1943 studio
We try to experience the shape and the feel of lost worlds through our imagination and our art, and sometimes our success will seem to rival the actual experience of the dead. The filmmaker Michael Meglarus has resurrected Hartley's stay in isolated communities in Maine and Nova Scotia during the last seven or eight years of his life in his poetic film, "Cleophas and His Own". His creative tools are his rich, mesmerizing voice and his acting and directing skills, the beauty of the land itself (shown here only in crisp black and white), and the artist's paintings (their breathtaking color a magnificent contrast). Hartley's surprisingly-good and surprisingly-neglected poetry composes the actual episodic screenplay in a reading, also by the auteur, which recreates the rhythm and accents of early 20th-century Down East speech. Subtlely-introduced strands from Richard Strauss ("Death and Transfiguration"), Charles Ives, an old protestant hymn ("In the Sweet Bye and Bye"), and one exquisite song by Schubert enrich long, exquisite languors within the text and flow through white rooms, above the sea and along the rocks of the shore.
It's a very long film, and the luxury of its slow pace almost seems to mock the "movie" form itself. "Cleophas and His Own" will have limited popular appeal, but any single one of its bells would probably have been sufficient to draw me into its graces. Those tags, generally representing something specific in my own past beyond just an interest or curiosity, start with Marsden Hartley of course and continue through the idea of the solitary outsider, New England (and Nova Scotia), forbidden homosexual passion and love, homosexual passion and love embraced, language, the simple built aesthetic, the survival of ealier social forms, domestic arrangements, subsistence farming, beautiful people and good souls, history, anthropology vanished worlds, spoken poetry, the sea, and coastal New England.
"Cleophas and His Own" will be shown in New York at 7 pm on January 17 at Sunshine Cinema. The DVD is available from the film's generously complete website, www.two17films.com.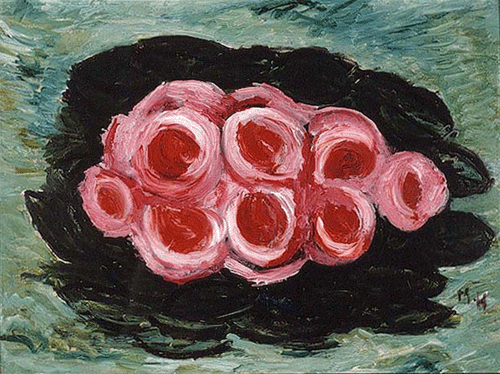 Marsden Hartley Roses circa 1936-1938 oil on board 12" x 16"
This image has been described as Hartley's represention of his beloved Mason family.
When Cleophas said 'Fine large morning,' it sounded as if a page of Blake had been blown open by the wind. - Marsden Hartley
*
The image at the top of this post is a remarkable self-portrait, described here on the Artcyclopedia site by Joseph Phelan:
"Sustained Comedy", a self-portrait that was never publicly identified as such, is the most astonishing [of Marsden's late likenesses]. This work transforms the aging, homely and shy Hartley into a young bleached blonde gay stud complete with earrings, butterfly tattoos and a pumped up torso bedecked with a tank top. Contemporary taste has finally caught up with Hartley's revelation of himself.
The image shown just below was painted at about the same time as the self-portrait. The subject is Hartly's last great love, Atly Mason, who was drowned together with his brother and his cousin during a hurricane in the summer of 1936.
Sunday morning. And the boys still not home. - Marsden Hartley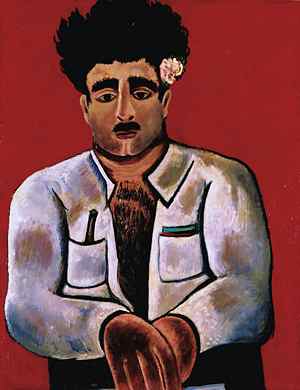 Marsden Hartley
Adelard the Drowned, Master of the "Phantom"
circa 1938-1939 oil on academy board 28" x 22"
[image of "Sustained Comedy", belonging to the The Carnegie Museum of Art, from artcyclopedia; image of "Roses" from Barridoff Galleries; film still from 217 Films; image of Adelard, belonging to the Weisman Art Museum, from The Crocker Art Museum]