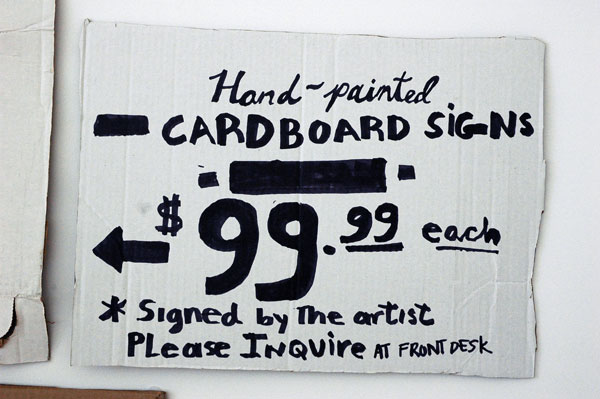 Alejandro Diaz (selection from "Ongoing series of Cardboard Signs" 2003 - present) [installation view]


[additional signs from the series]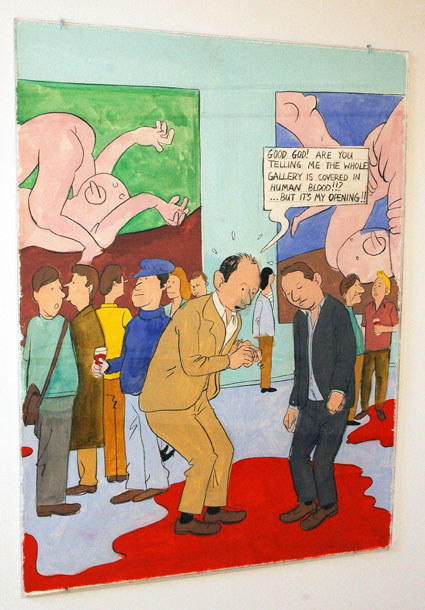 Guy Richards Smit study for front cover of "Grossmalerman Adventures" 2007 gouache on paper 30.25" x 22.75" [installation view]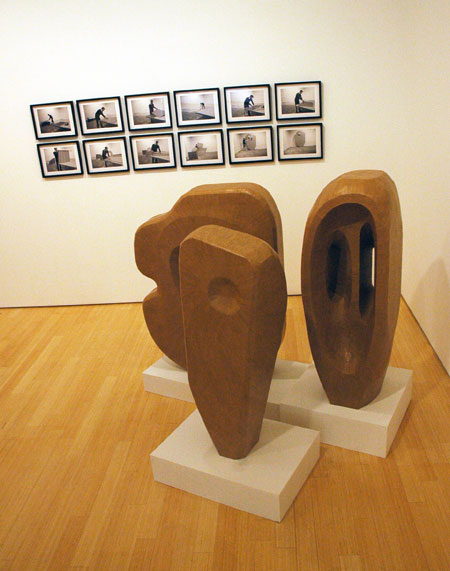 Terrence Gower Display Modern II-1 (Hepworth) 2006-2007 Paper mâché 49.75" x 38.25" x 9", Display Modern II-2 (Hepworth) 2006-2007 paper mâché 46" x 18" x 15", and Display Modern II-4 (Hepworth) 2006-2007 paper mâché 48.5" x 18" x 15", with Display Modern I (Hepworth) 2006-2007 12 Piezo pigment prints on phot rag 11" x 14" each (unframed) on wall to the rear [installation view]
Rachel Gugelberger and Jeffrey Walkowiak, co-directors of the gallery, are the curators of the current Sara Meltzer show, "Ceci n'est pas... (This is not...)", featuring work by Tamy Ben-Tor, Cary Leibowitz, Peter Coffin, Michael Lindeman, Jennifer Dalton, Pam Lins, Alejandro Diaz, Reynard Loki, Charley Friedman, Edgar Orlaineta, Neil Goldberg, Laura Parnes, Terence Gower, Danica Phelps, Pablo Helguera, Jude Tallichet, Christopher K. Ho and Troy Richards, Guy Richards Smit, Nina Katchadourian, Michael Smith and David Kramer.
The press release is almost as amusing as this very amusing show itself. It begins with a statement warning us about what the installation is not:
Ceci n'est pas... (This is not...) an exhibition about painting. This is not an exhibition that defines a moment or a trend. This is not an exhibition that celebrates the emerging artist or the mid-career artist or those who have passed. This is not an exhibition about appropriation, subversive strategies or architectural interventions. This is not an exhibition about global warming, the war in Iraq, government corruption, Lindsey Lohan or Knut the polar bear.
And it goes on to describe what it
is
, in an explanation excerpted here:
The group exhibition Ceci n'est pas... (This is not...) presents works that approach various facets of the art world with irony and humor. Culled from artist's observations and experiences as well as art world mythology, the far-ranging styles include self-deprecating anecdotes, commentaries on art and exhibition practices and critiques of art market trends.