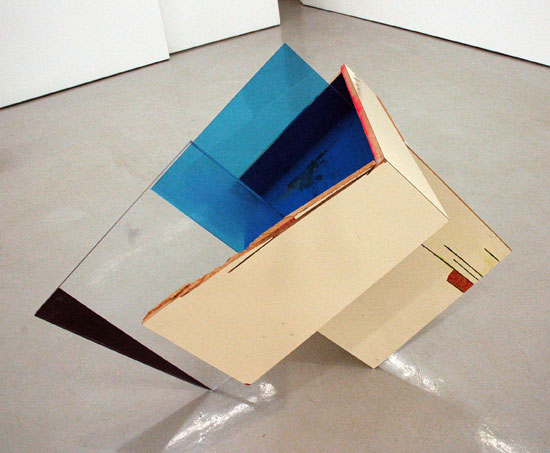 Sarah Braman Step Out 2007 found furniture, Plexiglas, paint 46" x 53" x 32" [installation view]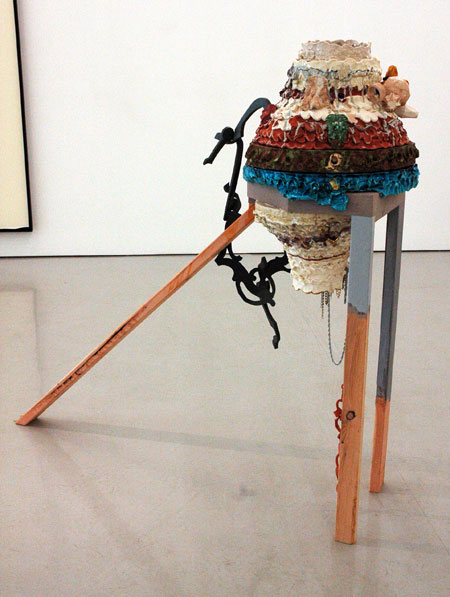 Nicole Cherubini Amphora 2007 ceramic, terracotta, porcelain, luster, yellow crystal ice, wood, enamel and fake gold and silver chain 70" x 64" x 30" [installation view]

Jacob Robichaux Concrete/Abstract 2007 color pencil, enamel, felt, glue, linen, parquetry tablets, string, wood 27" x 25"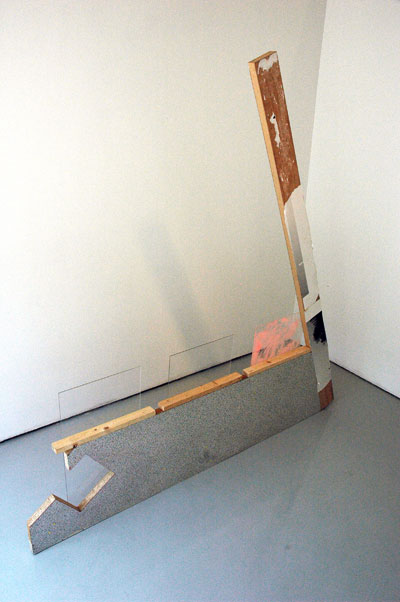 Ian Pedigo Temporary Image of the Exterior 2007 wood, counter top, Plexiglas, decals, found printed image 64" x 63.5" x 1.75" [installation view]
The other reason of my excitement about D'Amelio Terras is the show in the larger space, "Circumventing the City", curated by Rachel Uffner, with work by Sarah Braman, David Brooks, Jedediah Caesar, Nicole Cherubini, Valerie Hegarty, Yuri Masnyj, Ian Pedigo, Jacob Robichaux, Sterling Ruby and Erika Vogt.
Like "Heralds of Creative Anachronism", this is a show of abstraction, and everything in this room too was created within the last year or so, but four of the ten artists are not men, and their medium is not just paint on canvas. In fact, there really isn't anything here which might be called straight painting at all.
It's a beautiful show.
I was already familiar with and enthusastic about the exciting work of Braman, Cherubini, Hegarty, Pedigo, Robichaux and Ruby, and now I'm also going to be watching for Brooks, Caesar and Masnyj.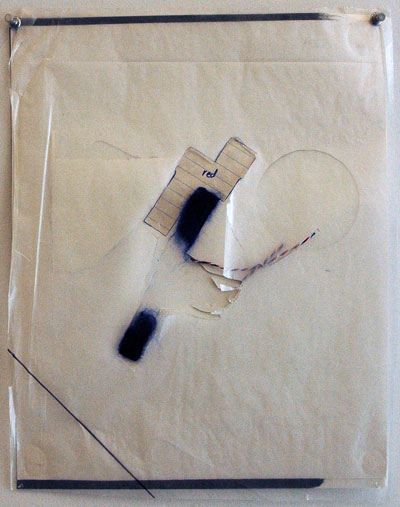 This smallish piece on paper by Robichaux is not actually part of the show, but I saw it hanging in an office inside the gallery and I couldn't resist sharing it.