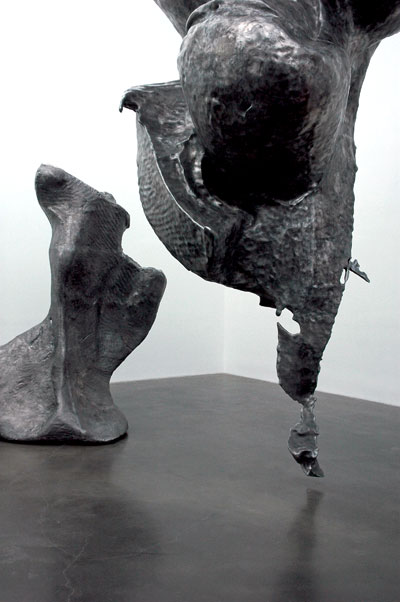 details of Urs Fischer's "Ix" and "David"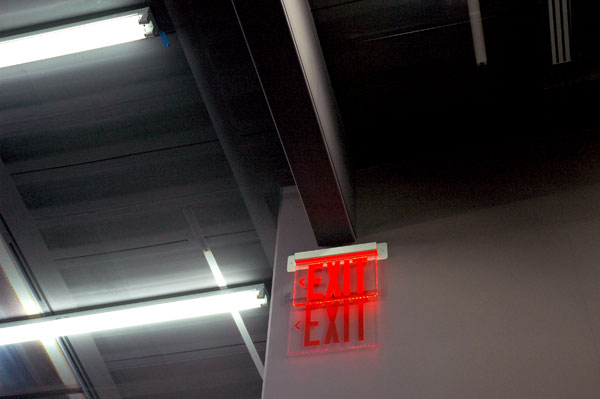 detail of Urs Fischer's "Last Call Lascaux" (other than the fluorescents, and one "exit", everything is wallpaper)

large detail of Urs Fischer's "Yarlsberg (Reverend)" reflecting two other mirrored blocks
I had forced myself to get up much earlier than I ever really want to, which normally would have been a drag, but I was actually looking forward to yesterday's press preview of "Urs Fischer: Marguerite de Ponty", excited to learn what all the fuss was about, and wanting to be amazed and excited.
There had been a lot of advance press, not all of it entirely auspicious, about the big deal show being installed down on the Bowery but I had decided I wasn't going to let talk about big money, cronyism, and way-too-"interested" patrons and curators affect what I thought of the artist's work itself.
But while I was still listening to the short introduction by Massimiliano Gioni, who may or may not be formally employed by the Museum but who is described in NuMu's press release as having "organized" this exhibition, I started to feel a grumpy coming on. Then, soon after alighting from the elevator on the fourth floor where we were confronted by enormous and weighty cast-aluminum abstract sculptures, one of them hanging from the ceiling, that spoke to me more of hubris than any kind of original aesthetic or penetrating intellectual breakthrough, but I'm not equipped to argue with the thousands of pages written in praise of Fisher's work, these five contracted pieces made in China probably not excepted.
The third floor space is where the magic happens. You've probably already read about it: Fischer has essentially created an enormous trompe l'oeil box. Every square inch of the walls and ceiling (which is actually a faux ceiling, including beams, constructed two feet below the real one) was lined with wallpaper which had been printed with photographic reproductions of the areas it covered, including images of the lighting, vents, door handles and exit signs, as it all appeared after the previous show had been taken down (the purplish color of the walls, while deliberate, relates to a photographic idiosyncrasy). There are four small-to-medium-size sculptures installed in various parts of the room. On my visit they elicited almost as much interest as the wallpaper, but if I were to be asked, I'd come down on the side of the room itself. While I didn't miss the details, like the photographed scuff marks and small nails from the last exhibition, I was charmed by both the idea and the reality of the room as a whole, its evocation of so many historical forms of visual illusion in art. I felt like a bumpkin in seventeenth-century Rome or eighteenth-century Bavaria, and I volunteered as much to anyone who looked like they would listen.
The Second floor is also a piece by itself (although no one seems to know whether it will be offered to collectors or museums only as a whole), and it may be the most successful part of the entire exhibition. "Service à la française" is an installation of dozens of mirrored chrome boxes each imprinted with a photographic image of some ordinary item which seems to have struck the fancy of the artist. The four sides and top of each box display precisely-documented sides, front, back and top of separate objects in the shape and volume scale of their original subjects, but not in one scale shared by all (a red public telephone box is approximately the size of a frosted Fruit Loops bar cookie).
I lingered for some time, walking around inside this orchestrated array of "monuments", perfectly-engineered and finished. I felt the impact of the work gradually alter from surprise and amusement to sweetness and, well . . . , coziness. If the piece is autobiographical, it's probably equally biographical, for everyone else, even if the visitor has never played cards, used a phone box, eaten a frosted cream puff, opened a lipstick, or touched a porcelain obelisk.
And then I was back on the first floor, where I already knew a different artist had an installation in the Glass Gallery opening the same day. Barry and I had known nothing about Nikhil Chopra until then, but we took a look at the materials which were thinly spread out in what looked like separate attractive and intriguing installations. A sign on the wall to the right described something of the artist's work and announced that he would be in residence in that gallery for five days next week, beginning Wednesday. We almost left (it was 12:30 and neither of us had had a breakfast) but decided to take another look at the the long narrow space and, in spite of the fact that we saw the note on the screen describing a three-hour performance we were quickly and irreversibly drawn into one of the video monitors on the floor.
It was an edited version of a 2007 performance by the artist, "Yog Raj Chitrakar visits Lal Chowk"*, and we watched it to the end, when we found we were both feeling better about the world than when we had arrived.
The Mumbai-based artist's work is described on the Brussels Kunstenfestivaldesarts site as "located in the border region between theatre, performance, painting, photography and sculpture."
Employing extremely modest means, and unassisted by any treatise or critique (at least none we had seen), the artist was able to touch both of us in a way nothing else had all morning. The impact of the literally awesome funding, resources, coordination and engineering required by the structures and objects installed in the three floors above us couldn't hold a candle to that delivered by this brief excerpt/detail of Chopra's work, a looped video monitored within an unpeopled set. I had forgotten what it feels like to be truly "amazed and excited".
I don't know what all this means, but I went out the door smiling, even though the rain had not let up.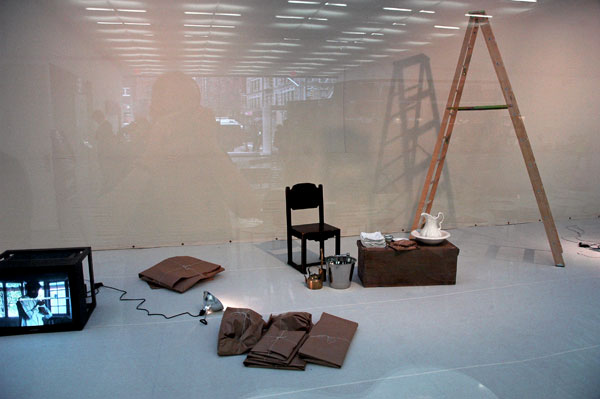 detail of Nikhil Chopra's "Yog Raj Chitrakar visits Lal Chowk" in the Glass Gallery
*
in the city of Srinagar, the capital of the disputed, but India-administered state of Jammu and Kashmir