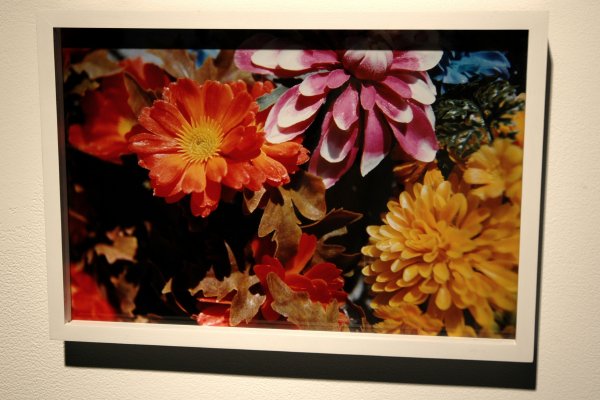 Aaron Krach Enough #1 2006 R-print 8.75" x 13.25" [view of installation]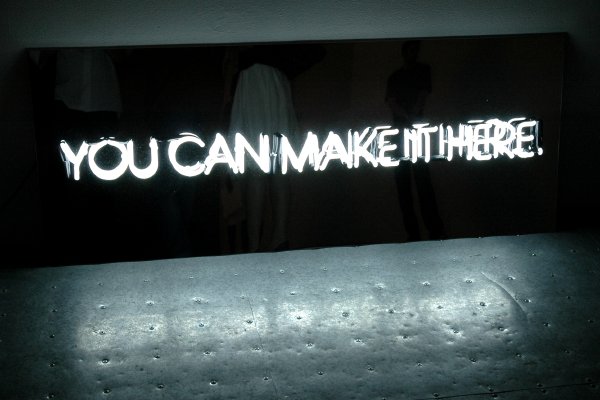 Aaron Krach You Can Make It Here 2006 neon on Plexiglas mirror 24" x 61.25" [view of installation, with reflected viewers]

Aaron Krach United Nations Gift Shop 2006 digital C-print mounted on Plexiglas 14.25" x 19.25" [detail view of installation]

Aaron Krach Performance #1 2006 DVD [still from video installation]
How much longer will we be able to [heart] NY?
What does New York mean to young artists today? Many of us who love the rich and raw exuberance of the creativity which brought us or kept us here are now very concerned about the future of [all of] the arts in a city which seems increasingly unable to accomodate those who don't already have, well . . . money.
But maybe all most of us can do is continue to wonder at the things that still make us [heart] NY.
Aaron Krach's beautiful exhibition in multiple media at DCKT Contemporary isn't ordered to address the real estate problem directly, but it does remind us, with sensitivity and great beauty, of some of the ordinary delights and extraordinary serendipities which have always inspired the neighbors we would miss the most if Luxurycondoland proves triumphant in the end.
From the gallery press release:
Aaron Krach stakes a claim to a piece of the rich and varied history of artists inspired by New York City. "My new work fits somewhere between late, jazzy Piet Mondrian and early, East Village Madonna," says Krach. "It's a genuine but perhaps futile attempt to capture the beauty of Manhattan streets and the sex appeal of pure, unadulterated pop culture."

Works in the exhibition include photographs of new and discarded consumer goods as well as the artist's own sculptures comprised of commercially manufactured objects. The raw materials of Krach's art are the overlooked and underappreciated parts of the cityscape-wheat-pasted advertising, steam that billows up from under the streets, and discarded kitsch.
Watch for larger or smaller bits of Krach's posters featuring bunches of fake flowers on billboards all around the city, starting with the outside west wall of the gallery building itself.
Scroll down inside this Bloggy post, and inside my own posts here and here for more of Krach.