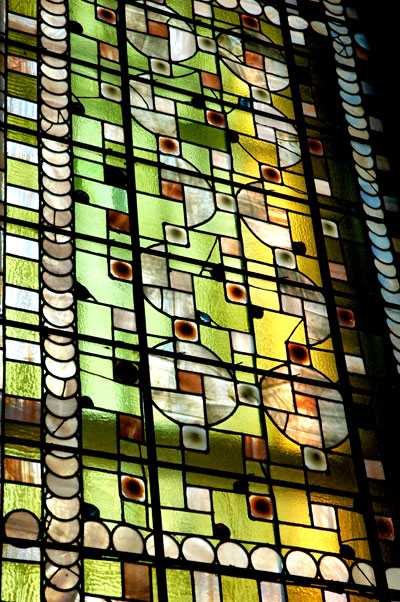 Louis C. Tiffany window in the Library of the Armory
I've been walking through the front doors of the Administration Building of the Seventh Regiment Armory on Park Avenue for decades, but until this past Monday I had never had a glimpse of that late-nineteenth-century monument's most elaborate rooms, in the wing north of the monumental entrance hall. They are just about as vigorous an expression of the American Aesthetic Movement to be found anywhere, but they have been pretty much hidden from the public, their beauties increasingly neglected for the lack of funds to maintain them. Today they are being restored to their original glory by the Seventh Regiment Armory Conservancy.
I was taken by surprise that we were permitted access that during The Art Show of the ADAA, and Barry and I were also in something of a hurry that afternoon, so I didn't have a chance to get more than a few images before having to rush out. Fortunately it was a beautiful sunny day, so the Tiffany windows and much of the rooms' other, largely-undisturbed, ornament probably looked their best - at least for now.
When the restoration is completed these rooms will look even richer, as much of the original color and detail had been watered down or replaced by alterations over the years. For instance, the panels to the left of the window in the picture below are now covered with a dull velvet fabric, but were originally painted with a blue field behind a stenciled silver and copper chain mail [it was an armory, after all] pattern.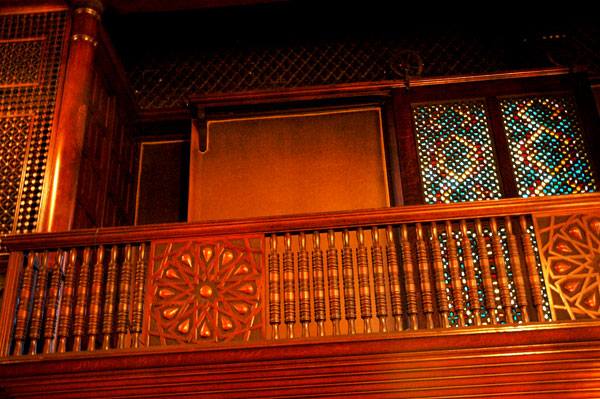 detail of the musicians' gallery in the Veterans Room